Spectrum Batteries carries a complete inventory from the WORLD'S LEADING suppliers of lithium, alkaline and other cells that are suitable chemistries for use in downhole applications. Because we can present all cell options available on the market, we are in a position to best satisfy our customer's requirements.


When proposing a battery design, Spectrum Batteries will offer batteries with different cell options. Because each cell may contain different characteristics, we urge you to study our entire website and the sites of our suppliers in order to determine which cell is best suited for your application. We make recommendations based on our knowledge of the cells and your application. Often it is the customer who is most qualified to make the decision. We encourage our customers to be as knowledgeable as possible when choosing cells for their applications.
Knowledge is Power
Our Customer Family

Spectrum Batteries has designs in place for over 200 original equipment manufacturers. We welcome business from old friends and new.
Labelling
Each of our battery packs carries two labels. Together they give our customers all the information required for safe handling of the product.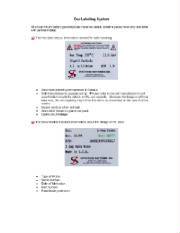 Disposal of Used Lithium Batteries
1. Spectrum Batteries recommends
Retriev Technologies
., lithium battery recyclers, for proper disposal of used lithium batteries. You can contact
Retriev
directly for disposal, or arrangements can be made through Spectrum Batteries. Contact us for details.